As a statewide leader in managed care, Superior HealthPlan wants to make sure you know the facts about the important programs we offer. Click on the questions below to learn about the role managed care organizations (MCOs) have in providing healthcare to people in Texas.
Superior HealthPlan is a managed care organization (MCO) that provides healthcare services to 1.5 million members in Texas. These services include medical, dental, vision, pharmacy and behavioral health. Having started in El Paso in 1999, Superior now serves members in all 254 counties in Texas.
Most of Superior's members get healthcare through government-sponsored programs. Superior works with Texas Health and Human Services (HHS) to bring members benefits in the STAR (Medicaid), Children's Health Insurance Program (CHIP), CHIP Perinatal Care, STAR+PLUS and STAR Kids programs. Superior has also been the only provider of the STAR Health program, providing coverage to children and youth in foster care since 2008.
MCO contracts for all Medicaid programs are awarded through a competitive Request for Proposal (RFP) process. This allows all MCOs to bid for contracts based on region and program. All contracts have an initial 3-year term and additional one-year extensions. History shows the Texas Health and Human Services (HHS) normally uses the extensions to the maximum extent to reduce change for members. This is only done when MCOs are performing well under their contract terms. 
With about one million Medicaid members in Texas, Superior gets state and federal funding to provide healthcare to each one of them. More than 87 percent of all funds go to medical and pharmacy benefits for these members. Below is a look at how each dollar is spent across all Medicaid programs in Texas.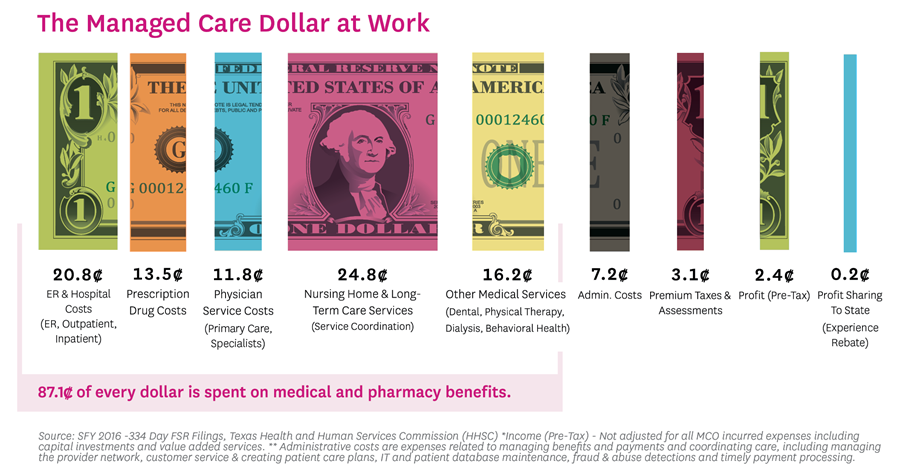 Infographic Description
Title: The Managed Care Dollar at Work
20.8 cents is spent on ER & Hospital Costs (ER, Outpatient, Inpatient)*
13.5 cents is spent on Prescription Drug Costs*
11.8 cents is spent on Physician Service Costs (Primary Care, Specialists)*
24.8 cents is spent on Nursing Home & Long-Term Care Services (Service Coordination)*
16.2 cents is spent on Other Medical Services (Dental, Physical Therapy, Dialysis, Behavioral Health)*

*In total, 87.1 cents of every dollar is spent on medical and pharmacy benefits.

7.2 cents is spent on Administrative Costs
3.1 cents is spent on Premium Taxes & Assessments
2.4 cents is spent on Profit (Pre-Tax)
0.2 cents is spent on Profit Sharing To State (Experience Rebate)
Source: SFY 2016 -334 Day FSR Filings, Texas Health and Human Services Commission (HHSC) *Income (Pre-Tax) - Not adjusted for all MCO incurred expenses including capital investments and value added services. **Administrative costs are expenses related to managing benefits and payments and coordinating care, including managing the provider network, customer service & creating patient care plans, IT and patient database maintenance, fraud & abuse detections and timely payment processing.
Superior HealthPlan and the State of Texas measure member satisfaction in many ways. As shown below, Superior consistently earns high marks in member satisfaction:
Since 2015, Superior HealthPlan has received a score of 3.5 or higher on a 5.0 scale on the National Committee for Quality Assurance (NCQA) Medicaid Health Insurance Plan Ratings. This includes a score of 3.5 for 2021.
According to a 2020 survey, 91% of members said they were satisfied with how quickly they received care. Nearly 90% of customers were happy with the health plan overall. 
86% of Medicaid recipients say they are satisfied with the care they receive. This is according to a June 2018 survey from the Texas Association of Health Plans.
Financial data for Superior and all other MCOs are available on the Texas Health and Human Services (HHS) website. Managed care organizations that participate in Texas' Medicaid programs have to abide by thorough financial accounting and audit standards set by HHS and the Department of Insurance. These include:
Financial reports accounting for all MCO expenses are submitted to HHS quarterly. These are audited each year by external accountants hired by HHS. These are done to make sure all MCOs consistently comply with accounting standards and regulations.
Financial audits every 3 years from the Texas Department of Insurance.
Audits from the State Auditor's Office and Office of Inspector General for areas of financial impact.
Contractual limits to profit that Medicaid MCOs are allowed to make. 
No limit on the amount of dollars an MCO can lose if medical costs increase during a financial period. 
Contract guidelines for what MCOs can count in their expenses. This means anything that is not defined by these rules is not paid for by HHS.
Annual financial audits by an external accounting firm. Conducted to provide confirmation of financial records accuracy and compliance with all standards and regulations to Superior's Board of Directors. 
Superior has the largest Medicaid provider network of all MCOs. Below is information about the providers that care for our members each day:
Superior has more than 90,000 providers across all 254 Texas counties. This includes more than 500 hospitals.
In a 2020 survey conducted by Superior, 89% of providers rated Superior favorably compared to other health plans.
More than 87% of providers said they would recommend Superior to their peers. Provider satisfaction with the health plan is also 5 points higher than Medicaid benchmarks.
Superior was awarded the first STAR Health contract with a start date of April 1, 2008. This was based on participation in a competitive bid process. Superior has been the only provider since. The company earned the contract again in 2015 based on rigorous standards in a competitive process. According to Medicaid/CHIP in Perspective, 11th Edition (PDF), STAR Health "is designed to better coordinate the health care of children in foster care and kinship care through one statewide MCO."
Superior has demonstrated continued high performance in customer satisfaction and quality requirements for children and youth in STAR Health. Superior also drives innovation and improvements across many facets of the STAR Health program:
Since 2008, there has been a 30% reduction in psychotropic medication use. There has also been a 33% decrease in children being prescribed 5 or more of these drugs.
STAR Health exceeds the 90th national percentile in follow-up care within 30 days after hospitalization for mental illness and well-child visits. This is for children ages 3 – 6 and 12 – 19.
From 2015 through 2018, there has been a near 12% reduction in the rate of children in foster care who accessed the ER for issues that could have been prevented.
Superior helped launch the Turning Point program. This is a  psychiatric hospital diversion program for children in STAR Health. There has been a 66% reduction in the readmission rate of psychiatric hospitalizations for members who have accessed the program.
Superior's STAR Health program continues to exceed Medicaid standards in Texas. This includes follow-up care after psychiatric hospitalization. This was 60% higher compared to Medicaid from 2015 through 2017.
There are many resources that can be used to learn more about the role Superior and managed care have played in providing healthcare to some of the most vulnerable people in Texas. These include:
With 1.7 million members, Superior puts members first. Here are just a few of their stories:
In 2008, Superior became the first managed care organization in the nation to provide statewide health care to children in foster care. This video shows how successful the program has become.
Mitch has three wishes, all of which were dependent on the right wheelchair. This video highlights how Superior helped all three come true.
Julio does his best to help his children, but as a single father, he's needed some help along the way. See what Superior has done to make an impact on his entire family.
Rob Casias' commitment to family began with his mother. This video explores their relationship and how Superior has been there along the way.
Cori Melanson relies heavily on a Superior employee. In more ways than one, their relationship depends on words, but this story is best told through film.
Kate's daughter has a rare skin condition, affecting her life in a major way. This video examines how far unwavering care and support can truly go.
To better serve children in foster care, Superior has identified centers of excellence. This video looks at one of these essential resources in Houston.