As a statewide leader in managed care, Superior HealthPlan wants to make sure you know the facts about the important programs we offer. Click on the questions below to learn about the role managed care organizations (MCOs) have in providing healthcare to people in Texas.
Superior HealthPlan is a managed care organization (MCO) that provides healthcare services to 2 million members in Texas. These services include medical, dental, vision, pharmacy and behavioral health. Having started in El Paso in 1999, Superior now serves members in all 254 counties in Texas.
Most of Superior's members get healthcare through government-sponsored programs. Superior works with Texas Health and Human Services (HHS) to bring members benefits in the STAR (Medicaid), Children's Health Insurance Program (CHIP), CHIP Perinatal Care, STAR+PLUS and STAR Kids programs. Superior has also been the only provider of the STAR Health program, providing coverage to children and youth in foster care since 2008.
MCO contracts for all Medicaid programs are awarded through a competitive Request for Proposal (RFP) process. This allows all MCOs to bid for contracts based on region and program. All contracts have an initial 3-year term and additional one-year extensions. History shows the Texas Health and Human Services (HHS) normally uses the extensions to the maximum extent to reduce change for members. This is only done when MCOs are performing well under their contract terms. 
With about one million Medicaid members in Texas, Superior gets state and federal funding to provide healthcare to each one of them. More than 87 percent of all funds go to medical and pharmacy benefits for these members. Below is a look at how each dollar is spent across all Medicaid programs in Texas.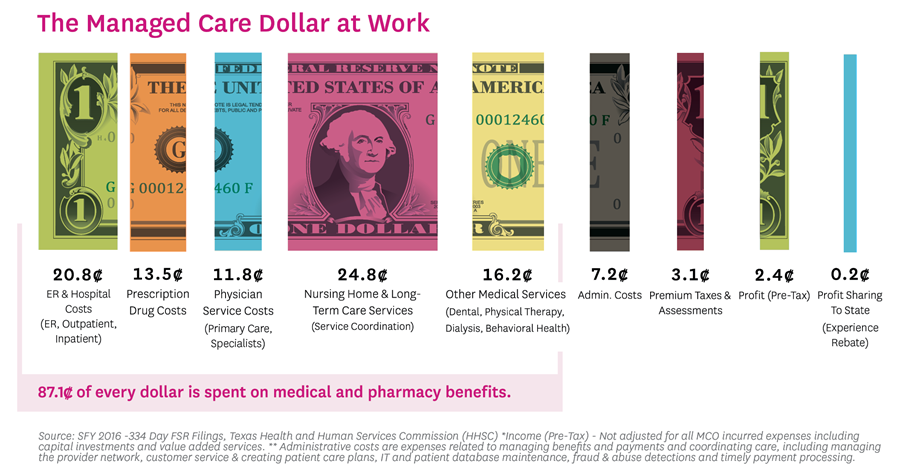 Infographic Description
Title: The Managed Care Dollar at Work
20.8 cents is spent on ER & Hospital Costs (ER, Outpatient, Inpatient)*
13.5 cents is spent on Prescription Drug Costs*
11.8 cents is spent on Physician Service Costs (Primary Care, Specialists)*
24.8 cents is spent on Nursing Home & Long-Term Care Services (Service Coordination)*
16.2 cents is spent on Other Medical Services (Dental, Physical Therapy, Dialysis, Behavioral Health)*

*In total, 87.1 cents of every dollar is spent on medical and pharmacy benefits.

7.2 cents is spent on Administrative Costs
3.1 cents is spent on Premium Taxes & Assessments
2.4 cents is spent on Profit (Pre-Tax)
0.2 cents is spent on Profit Sharing To State (Experience Rebate)
Source: SFY 2016 -334 Day FSR Filings, Texas Health and Human Services Commission (HHSC) *Income (Pre-Tax) - Not adjusted for all MCO incurred expenses including capital investments and value added services. **Administrative costs are expenses related to managing benefits and payments and coordinating care, including managing the provider network, customer service & creating patient care plans, IT and patient database maintenance, fraud & abuse detections and timely payment processing.
Superior HealthPlan and the State of Texas measure member satisfaction in many ways. As shown below, Superior consistently earns high marks in member satisfaction:
Since 2015, Superior HealthPlan has been one of the top-rated Medicaid plans in Texas, earning a rating of 3.5 or higher on a 5.0 scale on the National Committee for Quality Assurance (NCQA) Medicaid Health Insurance Plan Ratings. This includes a rating of 3.5 for 2022.
 According to a 2022 survey, 90% of members said they were satisfied with how quickly they received care. Additionally, more than 95% of members said they were satisfied with Superior's customer service.
The Superior HealthPlan STAR+PLUS Medicare-Medicaid Plan (MMP) is one of only four plans across the country to earn a score of at least 90 out of 100 during an annual survey administered by the Centers for Medicare & Medicaid Services (CMS). Based on feedback, Superior tied for the highest overall rating among health plans with a 90 out of 100 and was the only plan from Texas in the top 10. 
Financial data for Superior and all other MCOs are available on the Texas Health and Human Services (HHS) website. Managed care organizations that participate in Texas' Medicaid programs have to abide by thorough financial accounting and audit standards set by HHS and the Department of Insurance. These include:
Financial reports accounting for all MCO expenses are submitted to HHS quarterly. These are audited each year by external accountants hired by HHS. These are done to make sure all MCOs consistently comply with accounting standards and regulations.
Financial audits every 3 years from the Texas Department of Insurance.
Audits from the State Auditor's Office and Office of Inspector General for areas of financial impact.
Contractual limits to profit that Medicaid MCOs are allowed to make. 
No limit on the amount of dollars an MCO can lose if medical costs increase during a financial period. 
Contract guidelines for what MCOs can count in their expenses. This means anything that is not defined by these rules is not paid for by HHS.
Annual financial audits by an external accounting firm. Conducted to provide confirmation of financial records accuracy and compliance with all standards and regulations to Superior's Board of Directors. 
Superior has the largest Medicaid provider network of all MCOs. Below is information about the providers that care for our members each day:
Superior has more than 90,000 providers across all 254 Texas counties. This includes more than 500 hospitals.
In a 2020 survey conducted by Superior, 89% of providers rated Superior favorably compared to other health plans.
More than 87% of providers said they would recommend Superior to their peers. Provider satisfaction with the health plan is also 5 points higher than Medicaid benchmarks.
Superior was awarded the first STAR Health contract with a start date of April 1, 2008. This was based on participation in a competitive bid process. Superior has been the only provider since. The company earned the contract again in 2015 and in 2022 based on rigorous standards in a competitive process. According to Medicaid/CHIP in Perspective, 11th Edition (PDF), STAR Health "is designed to better coordinate the health care of children in foster care and kinship care through one statewide MCO."
Superior has demonstrated continued high performance in customer satisfaction and quality requirements for children and youth in STAR Health. Superior also drives innovation and improvements across many facets of the STAR Health program:
Since 2008, there has been a 30% reduction in psychotropic medication use. There has also been a 33% decrease in children being prescribed 5 or more of these drugs.
STAR Health exceeds the 90th national percentile in follow-up care within 30 days after hospitalization for mental illness and well-child visits. This is for children ages 3 – 6 and 12 – 19.
From 2015 through 2018, there has been a near 12% reduction in the rate of children in foster care who accessed the ER for issues that could have been prevented.
Superior helped launch the Turning Point program. This is a  psychiatric hospital diversion program for children in STAR Health. There has been a 66% reduction in the readmission rate of psychiatric hospitalizations for members who have accessed the program.
Superior's STAR Health program continues to exceed Medicaid standards in Texas. This includes follow-up care after psychiatric hospitalization. This was 60% higher compared to Medicaid from 2015 through 2017.
There are many resources that can be used to learn more about the role Superior and managed care have played in providing healthcare to some of the most vulnerable people in Texas. These include:
With 2 million members, Superior puts members first. Here are just a few of their stories:
As a senior in high school, Mitch had three wishes, all of which were dependent on the right wheelchair. With the ongoing support of Superior, all three of his wishes came true.

When Autumn was 20, she lost her mother to breast cancer, and years later received the same news her mother did. Yet, with early detection and the support of Superior, Autumn beat breast cancer.

From chronic back pain to a rare disease and depression, it had become nearly impossible for Melanie to walk, shower, and care for her children. But her first conversation with a Superior Care Manager changed everything.

As the only managed care organization for STAR Health – the Texas Medicaid program for kids in foster care – Superior provides coordinated care to meet the complex needs of each individual member.

Through hygiene closets, Superior HealthPlan has partnered with community organizations across Texas to serve families in need of basic personal care items. This includes shampoo, soap, feminine products, and other necessities at no cost.
Below are the dates and times the Superior Community Hygiene Closets are available. During these times Superior staff are also available to provide education and answer any questions you may have.

City
Agency
Address
Superior Day & Time 
Abilene
West Central Texas Council of Governments (ADRC) 
Mobile Closet - contact agency for location and date. 
Mobile Closet - contact agency for location and date. 
Alton
La Union Del Pueblo Entero
416 S. Alton Blvd, Suite A., Alton, TX 78573
2nd Tuesday of the month 10am-12pm
Amarillo
Panhandle
Community Services - Amarillo Closet

1309 SW
8th Ave, Amarillo, TX 79101

Last
Tuesday of the month 1:30pm-3:30pm

Amarillo
Panhandle
Independent Living Center

417 SW
10th Ave, Amarillo, TX 79101

2nd
Tuesday of the month 2pm-4 pm

Austin
Catholic
Charities of Central Texas

1625
Rutherford Ln., Austin, TX 78754

 3rd
Friday of the month 10am-2pm

Austin
Literacy
Coalition of Central Texas

724
Eberhart Ln #500, Austin, TX 78745

1st
Wednesday of the month 10am-12 pm 
Austin
Todos
Juntos Learning Center
409 W
Ben White Blvd, Austin, TX 78704

2nd
Wednesday of the month 10am-12 pm

Austin
Austin
Voices Burnet Family Resource Center 

8401
Hathaway Dr, Austin, TX 78757

3rd
Wednesday of the month 10am-12 pm 

Corpus Christi
Antonio
E. Garcia Center 

2021
Agnes St. Corpus Christi, TX 78405

2nd
Wednesday of the month  10am-1pm 

Dallas
The
Salvation Army - Oak Cliff 

1617 W.
Jefferson Blvd, Dallas, Texas

1st
Wednesday of the month 9am-11am 

Dumas
Panhandle
Community Services - Dumas Closet

801 S.
Bliss Ave, Ste. 101B, Dumas, TX 79029

2nd Wednesday of the month 1:30pm-3:30pm

Edinburg
Grace Church
23981
Skinner Rd, Edinburg, TX 78542

3rd Thursday of the month 2pm-4pm
El Paso
YMCA of El Paso
5509 Will Ruth Avenue, El Paso, TX 79924
4th Saturday of the month 2pm-4pm
Gun Barrel City
Family Resource Center
107
Spring Valley St, Gun Barrel City, TX 75156

3rd
Wednesday of the month 11am-1pm

Hereford
Panhandle
Community Services - Hereford Closet

1011 E.
Park Street, Hereford, TX 79045

4th
Wednesday of the month 9:30am-11:30am

Hunt
Hunt
County Shared Ministries

2805
King St., Greenville, TX 75403

3rd
Wednesday of the month 9am-12pm

Kaufman
The
Center 

400 S.
Terrell Hwy, Kaufman, TX 75142

1st
Monday of the month 9am-11am

 Longview
Longview
Dream Center

803
Gilmer Rd, Longview, TX 75604

2nd
Wednesday of the month 11am-1pm

Lubbock
Lubbock
Impact

2707
34th Street, Lubbock TX 79410

1st
Tuesday of the month 9am-12pm

Lubbock
Catholic
Charities of Lubbock

102 Ave
J, Lubbock, TX 79401

4th
Thursday of the month 1:30pm-3:30pm

Odessa
Odessa
Family YMCA

3001 E
University, Odessa, TX 79762

1st
Friday of the month 1pm-3pm 

Odessa
Catholic
Charities 

2500
Andrews Hwy, Odessa, TX 79761

1st
Tuesday of the month 1pm-3pm 

Progreso
Hidalgo
County Pct#1 Progreso Community Resource Center

510 FM
1015, Progreso, TX 78596

4th
Thursday of the month  1:30pm-3:30pm

 San Angelo
Concho
Valley Community Action Agency 

133 W Concho Ave,
Suite 301, San Angelo TX 76903

3rd
Thursday of the month 1pm-3pm 

San Antonio
YWCA of
San Antonio

503
Castroville Rd, San Antonio, TX 78229

3rd
Wednesday of the month 3pm-5 pm

Tyler
Healthy
Me, Healthy Babies

112 E
Line St. Suite 200, Tyler, TX 75702

  1st
Wednesday of the month 11am-1pm

Tyler
Children's
Defense Fund - Texas

5610
Old Bullard Rd Suite 202, Tyler, TX 75703

2nd
Tuesday of the month 11am-1pm

Waco
  Catholic
Charities of Central Texas

5034
Franklin Ave, Waco, TX 76710

2nd
Tuesday of the month 10am-1pm

Witchita Falls
North
Texas Area United Way 

3401-B
Armory Road, Wichita Falls, TX 76302

1st
Thursday of the month 9am-11am