News
Member Survey Regarding Provider Experience
Date: 03/07/22
Each year, Superior conducts five Consumer Assessment of Healthcare Providers and Systems (CAHPS) surveys for Medicaid (STAR, STAR Health, STAR Kids, STAR+PLUS), CHIP, STAR+PLUS Medicare Medicaid Plan (MMP), Wellcare By Allwell (HMO and HMO SNP) and Ambetter from Superior HealthPlan members. Last year, the CAHPS survey was administered from February through May 2021.
The CAHPS survey asks members to rate their overall health-care experience, including interactions at their provider's office. When members evaluate this experience, they often combine their provider interactions with their health plan encounters as well. Superior believes it is beneficial to collaborate with our provider community to enhance the member's journey in receiving care and services.
What were Superior's 2021 CAHPS Survey Results?
Survey results are trended over time to evaluate against goals and improvements, analyze results with available data, including complaint, denials and appeals, and feedback from advisory groups. Typically, these results impact National Committee for Quality Assurance (NCQA) health-plan rankings, Medicare Star ratings, Qualified Health Plan (QHP) ratings, and Superior member experience initiatives.
Medicaid, CHIP and Ambetter CAHPS surveys were completed, and Wellcare By Allwell and MMP surveys were partially completed. Please review the 2021 survey results below:
Survey Results for Medicaid/CHIP, MMP and Wellcare By Allwell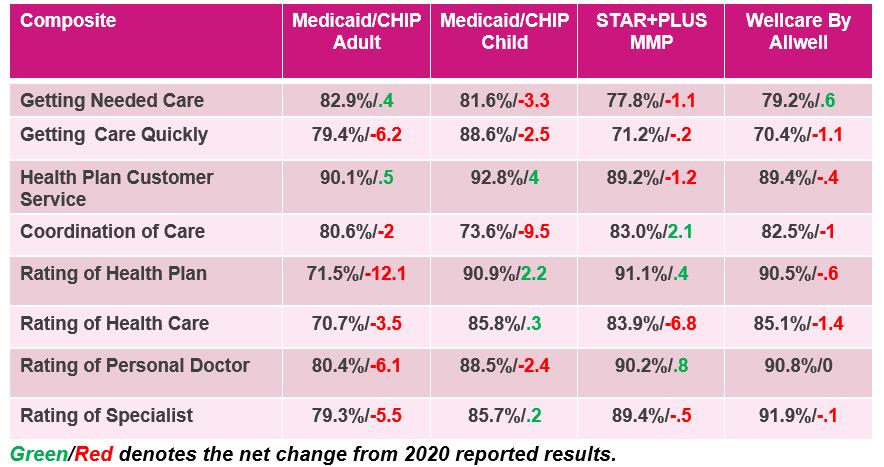 Survey Results for Ambetter Members
The CAHPS survey is administered annually by an external survey vendor, SPH Analytics (SPH), using the survey protocol defined in current Healthcare Effectiveness Data and Information Set (HEDIS) Specifications. SPH summarizes and provides estimated results based on data. Superior has included the projected estimated NCQA Medicaid, CMS Medicare and QHP STAR ratings received from SPH in the table below:
SPH Estimated Ratings
Superior strives to improve quality standards and performance by working closely with providers to enhance the member care experience through the utilization of the CAHPS survey. CAHPS scores have become increasingly more important over the years, and the weight towards Medicare Star ratings has continued to increase from 21% to 33%. For more information about how providers can impact the member care experience, please download the CAHPS Provider Tip Sheet, found under QUALITY RESOURCES on Superior's QI Program webpage.
For any questions, please call Provider Services at 1-877-391-5921.